Mustang Shelby GT350/R Carbon Ceramic Brake Kit

Sale Price: $4,499
Email: tonybracingllc@gmail.com
Phone: 415.640.0967
The Highlights:
Exceptional pad and rotor life (Sonoma Raceway used as test track): 40 'race pace' sessions (20-25 minutes each)  0r the equivalent of 810+ laps on track or 2035 total track miles before pads need changing.
The same Brembo ceramic brake rotor as the McLaren 570s/Viper ACR/Acura NSX/New Ford GT/Chevy ZR1 and Z/28.
31+lbs of total weight savings off the front end.  OEM steel rotor weight is 30lbs each vs. my carbon ceramics at 14.2lbs!
Extensive track testing before kit was released to market.
Direct replacement of your existing GT350/R steel rotors and pads (no mods necessary)
Harder more heat resistant 7075 Aluminum used for brake hats instead of softer 6061 Aluminum.
Pagid Racing RSC1 carbon ceramic brake pads.
Pagid Racing Engineers used to consult and validate proper pad and rotor break-in, general wear, performance characteristics.
Some Assembly Required: Brake kit comes with center brake hat and hardware packaged separately from brake rotor. (all necessary mounting hardware and torque specs included). Assembly of brake hat to rotor is to be completed by the customer D.I.Y. with basic tools or by any experience mechanic from a reputable performance shop (recommended).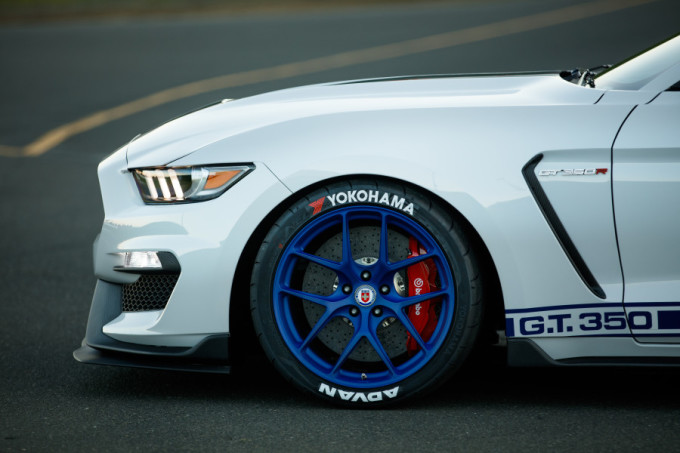 It is finally here! After extensive track testing, calibration, and evaluation, I am proud to offer my carbon ceramic brake package for the 2016+ Ford Mustang Shelby GT350 & GT350R.  As you will see from the photos below, I have kept close track of the pad and rotor wear and performance characteristics to insure long, consistent, fade-free performance!  There are other kits similar to mine on the market, but none who are documenting and verifying the performance characteristics of their kits as I have.  I am also offering my brake package at over $700 less than the competition.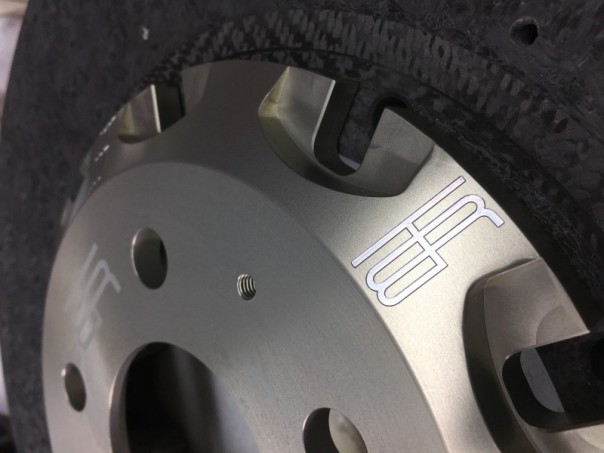 The End Result…
Sonoma Raceway has been my home track for nearly 20 years.  As a professional race driver and senior driving/racing instructor at this track, I know it very well and I am extremely comfortable pushing any car to its limit lap after lap.  As a true test of my carbon ceramic brake kit, I was driving my GT350R at 9/10th's or call it "race pace" for literally every session I had it on track.  As what should be considered typical use of a high-performance brake package, I did not drive hard on track any longer than 20-25 minutes straight.  More importantly, the cool-down process was very important as I gave my brakes a solid lap to cool down. I also had no less then 20-30 minutes of down time off track before I went back on track for another hard 'at speed' session.  I highly recommend you use this same process (brake beed-in process is different) of cool down for your kit to insure consistent, reliable, and long pad and rotor life of your ceramic brake kit.
The pad wear you see below is a result of the following abuse at Sonoma Raceway (aka Sears Point):
40 'race pace' sessions  (20-25 minutes each)
810+ laps on track
2035 total track miles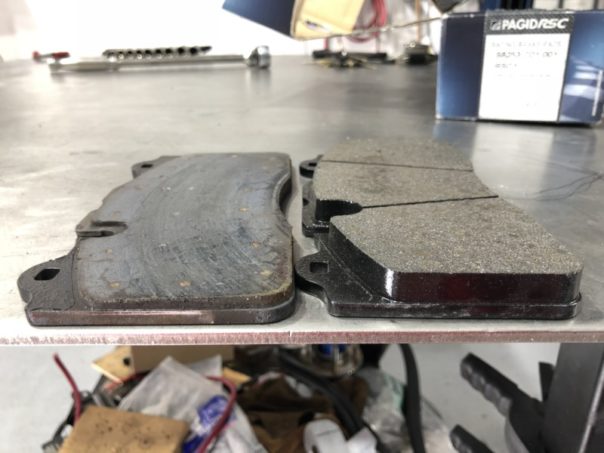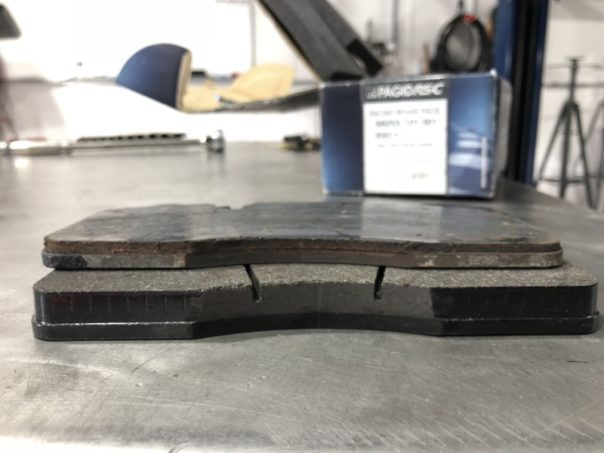 Carbon Ceramic Brake Rotor and Pad bed-in process as recommended from Pagid Racing: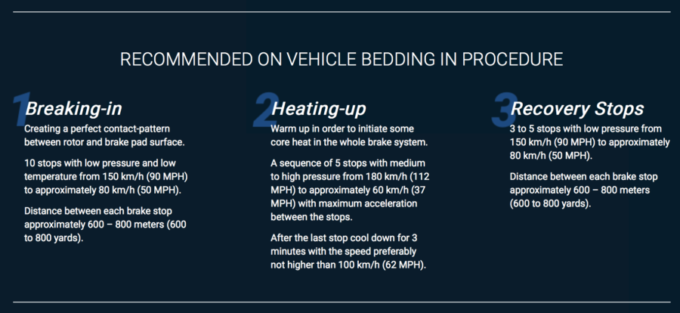 About Me:
My name is Tony Brakohiapa.  I am a professional driving and racing instructor, race driver, film and tv stunt driver.  Sonoma Raceway (a.k.a. Sears Point) has been my home track for almost 20 years. I have also been racing/drifting/building Mustangs for nearly 15 years.  I am a recent owner of a 2016 GT350R.  Not leaving well enough alone, (and all due credit to Ford Engineers who have done a stellar job on the GT350/R) I saw and opportunity to enhance my GT350R and was able to showcase it at the S.E.M.A. show in Las Vegas in 2016.  With a few of my sponsors from my racing background, I was able to display and create what is already a limited-edition car into something more special and better performing.
Of course, one of the key aspects of the changes I made was the introduction and industry first application (fall of '16) of carbon ceramic brake rotors for the GT350/GT350R.
Please feel free to call or email with any questions!
Email: tonybracingllc@gmail.com
Phone: 415.640.0967

*CAUTION:

 

Modification of your vehicle with the parts identified above may alter its stock performance; the buyer hereby expressly assumes all risks associated with any such modification.
*

Limited Liability Release

:

 

There are risks associated with modifying your vehicle from it's original factory manufactured condition. Modifying your vehicle in any way may result in property damage, serious physical injury or death.   Customer voluntarily accepts, assumes, and incurs all such risks, dangers and damages incurred associated with modifying there vehicles original factory manufactured condition. Tony B Racing, LLC assumes no liability expressed or implied for the improper installation or use of its products or its components. Tony B Racing, LLC is not responsible for any damage, consequential or otherwise for equipment failure after installation. CUSTOMER RELEASES, WAIVER, DISCHARGES, AND COVENANTS NOT TO SUE TONY B RACING, LLC, OR ITS EMPLOYEES.